If you want to store data with Network Attached Storage (NAS) system, which one will you choose between Unraid vs FreeNAS? 
Without using a storage device, you can't connect with NAS. So it is essential to select a suitable device. Unraid and FreeNAS are the popular storage devices that work with the NAS server. Sometimes it's tough to choose the right storage device. Here we will show some factor over Unraid vs FreeNAS to select the better one for you.
Unraid
Unraid is a paid storage operating system. Unraid software runs with Unraid OS device. It bases on three levels. Level one costs $ 59, level two costs $ 89, and level 3 costs $ 129. How many storage devices you can connect that depends on the levels. 
Unraid can store digital media like videos, photos, music, and movies. In the Unraid device, you can build an array of hard drives. You can share the data from those drives across the local network. Unraid keeps all the data on the drives securely. In the Unraid system, you have control over your storage. You can see all of your drives and keep backup of the essential files.
FreeNAS

 
FreeNAS is an open-source operating system. You can store data without any cost. The source code of FreeNAS you can find in developing platforms. It is easy to install FreeNAS. It allows you to store any data like files, images, audio, and videos quickly and safely. Being a software of the NAS server, you can create a local cloud backup. 
Features: Unraid Vs FreeNAS
Unraid

FreeNAS

Cost
$59 to $129
Free
Hardware Requirements
Processor: 64 bit

RAM: 2 GB/ 4 GB/ up to 32 GB

Processor: 64 bit

RAM: 8GB

Backup
The application server and Virtualization host
Cloud Store
File system
Open ZFS
XFS (default), BTRFS
More Specifications About Unraid
Lime Technology develops Unraid. You can securely store a vast amount of data with Unraid. It is easier to use than FreeNAS. You can not only see all of your drives but also know what is on each drive. The process of adding a new drive is also simple in Unraid.
You don't need to stress about data loss if any hardware failed on your computer. You can access all the data by unplugging the healthy disk and inserting it into another server or computer. It also supports Linux.
| | |
| --- | --- |
| Pros | Cons |
| | It is a paid operating system. |
| Have control over storage. | |
| | |
| | |
More Specifications About FreeNAS
The iX systems company developed FreeNAS. You can use FreeNAS to store data under sharing protocols. For Windows users and Unix-like operating systems, FreeNAS gradually supports CIFS and NFS moreover, AFP for Mac OS X users. To store, manage, and protect data FreeNAS use the ZFS file system. 
Adding a new drive is a little bit complicated. In FreeNAS, you can back up your data by making your cloud storage. Owncloud allows you to share or access your files on any device. 
| | |
| --- | --- |
| Pros | Cons |
| | It works with high power. |
| Have your ownCloud backup. | |
| | |
| Great for home or enterprise use. | |
Which One Should You Choose?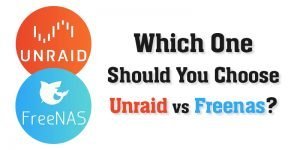 Unraid gives you extra advantages. You can easily maintain and access your data with Unraid. You can add more storage without disturbing other data. For a big company or who has massive data Unraid is the ideal choice for storage.
In the FreeNAS system, you can store data by creating a personal cloud. For home or enterprise use, you can choose FreeNAS. If you want to store data without any cost, you can select FreeNAS.
Conclusion
After comparing Unraid vs FreeNAS, you can see in both storage devices offer you many advantages. You can store large amounts of data with back security, and you can access them anytime. But the most noticeable factors between them are using facilities and pricing.
More To Explore: