A few days ago, I wanted to use the SD card as internal storage on the Samsung device. Because my device had not enough internal memory to store all the apps I need. I didn't know how to get free of this problem.
Finally, following a few steps, I was able to use the SD card as internal storage. Now I can store app, movies, games, and photos on my device at will. If you have face problems with this matter, here is the whole procedure for you.
For your ease, we are showing the whole procedure step by step. Let's have a look.
What is internal storage?
Internal storage refers to the memory fragment on the Smartphone, which is compactly emotionally involved to the rest of the Smartphone hardware and cannot erase. Internal storage is the straight converse of external storage.
Is Samsung support the SD card as internal storage?
Samsung has set up a web page that confirms that Galaxy Tabs and phones do not support adoptable storage. However, some high-budget Samsung devices support SD card as internal storage, just like other Android devices.
If this does not work on your device in general terms, then following some procedures, you can find out if your device supports it alternately.
First of all, install the Terminal Emulator application form the Google play store.
Link: https://play.google.com/store/apps/details?id=jackpal.androidterm&fbclid
After open this application type "su" and enter. Then Allow root permission.
Now type "sm has-adoptable" and enter.
If you see "true," then your Samsung device has supported this process.
If you find "false," then your device is not supported for this process.
How to Use SD Card as Internal Storage on Samsung Mobile
After confirming that your Samsung is supporting the device with adoptable storage, you can solve it by using ADB shell. Here we are showing an example of how to set an SD card to internal storage on Samsung j2 prime. Before following this process, please take a look at its pros and cons.
| | |
| --- | --- |
| Pros | Cons |
| Store many data. | SD cards may be disabled. |
| Install any applications as internal storage | The phone will slow |
Step: 1
1. Go to Settings. Click on the About device option.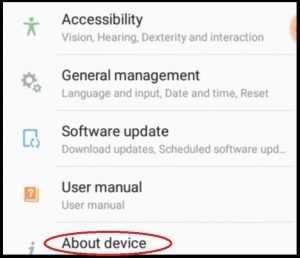 2. Open the Software info option.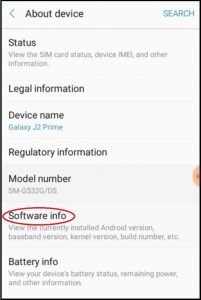 3. Click on Build number option until Developer mode Enable. (It will open after 3/4 click)
After enabling the developer option, go 2 steps back. Now you can see a new option (Developer option). Click on this option.
4. Now turn on option and enable the USB debugging.
Now you can see an info notice, click on ok. Then you have to use a PC (With the phone connected) to go to the next step.
Step: 2
Back up the data, you have on the SD card.
 Enable USB to debug mode.
Open terminal type the 'adb shell' command (With your phone connected, of course).
Type 'sm list-disks' to list the disk ID (disk: 179, 128 in this example).
Type 'sm partition disk:????? Private'. (This set all SD storage to become internal)
or
Type 'sm partition disk:????? Mixed 50' (This set 50% SD storage as internal and other 50% remain external).
Now your SD card is set as Internal Storage.
Note:
You need to keep a backup.
Make sure your device battery is at least 80% full.
Conclusion
In this article, I've shared the whole procedure about how to use the SD card as internal storage on Samsung. By subsequent the steps beyond, you can use your Samsung phones or tab in peace. Last of all, some tips that help you to save your essential data on your mobile.
More To Explore: