DISCLAIMER: THERE ARE AFFILIATE LINKS IN THIS POST. THIS MEANS THAT AT NO COST TO YOU, I WILL RECEIVE A SMALL COMMISSION IF YOU PURCHASE THROUGH MY LINK.
Did you accidentally unmount your SD card and your phone couldn't find the SD card? If so, then this article is going to help you out!
When we want to remove our memory card from the phone, we need to unmount the SD card for the sake of our data's safety.
If the SD card is unmounted, the phone gets disconnected from the SD card, and you couldn't store essential documents to the memory card.
To get access again, you need to mount the SD card. Go through the entire article, and following simple steps, install your SD card again!
The Process of Mounting The SD Card with The Phone
If your SD card is unmounted, then you can follow the given methods to mount your SD card with your android smartphone.
Method 1: Mounting by Removing & Re-inserting The SD Card
This method is quite straightforward. All you require to do is to remove your SD card from your phone. After a while, insert your SD again into your phone. Now you will see your phone let you access your SD card.
Method 2: Mounting without Removing The SD Card
If you want to mount your SD card without removing it from your android phone in that case you can follow these steps-
Step 1: Check the notification bar
At first, you should check whether your SD card is unmounted or not. So, to verify that, go to the notification bar of your phone.
In the figure, you can see a notification that is SD card safe to remove. That means you unmounted your SD card anyhow.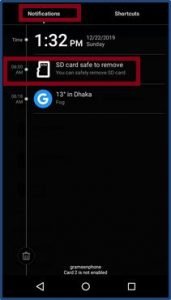 Step 2: Go to the Settings Option
Now from the shortcut option of your phone, you need to select the settings option like the picture given below.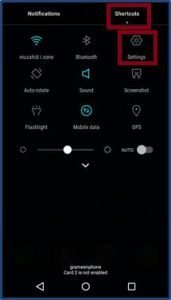 Step 3: Tap onto the Storage Option
Now go to the storage option from the settings like the figure to proceed to the next level.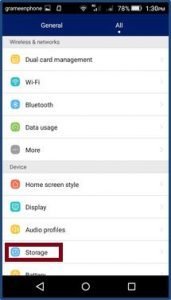 Step 4: Click on the Mount SD Card Option
After the taping on the storage option now, you will see a window like below. So swipe down on your phone's screen and find the option called Mount SD Card and click on it.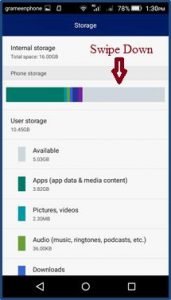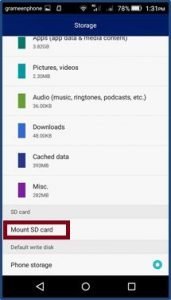 Step 5: Verification
Finally, verify whether your mounting process is successful or not. After clicking on the Mount SD Card option, you will see a window like below.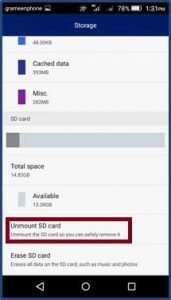 The above figure displays all the details about your SD card, which are the total space, availability. Another option is visible in the picture, which is the Unmount SD Card.
That means your SD card is in progress, and you have successfully mounted your SD card again. Now you can have access to your memory card again.
Final Words
Following these two different methods, now you can mount the SD card again with your phone. So do not need to bother anymore if your SD card is unmounted.
But when you want to remove your SD card, make sure you unmount the SD card; otherwise, you may lose any essential documents from your SD card.