A Solid-State Drive or SSD is a device storage made for computers. It replaces the traditional hard disks and is significantly faster. They are lighter, quieter, and more reliable than the HDDs.
Installing an SDD is one of the most common and essential upgrades for MacBook Pros of all versions. It maximizes the utilization of your Mac by expanding the storage space. Choosing the right SDD for upgrading the older MacBook Pro can be difficult as various kinds with similar claiming available in the market.
To solve this problem, we will give you a list of recommendations on the best SSD for MacBook Pro 2011. Without further delay, let's dive into it!
Best SSD for MacBook Pro 2011
Let's check out the complete reviews of the top five SSD suitable for MacBook Pro 2011.
#1. Crucial MX500- Optimize Performance within Budget

Crucial is a well-known company for manufacturing high quality and reliable memory and flash storage. Crucial MX500 is a great budget-friendly SDD option. It secures your data and enhanced by micron 3D NAND technology.
One of the vital features is its power loss immunity, which helps preserve the saved work in unexpected power cuts. The energy-saving feature in this drive stops overheating and unnecessary battery use. This feature is beneficial for the older MacBook pro users, especially MacBook pro 2011 or earlier.


The installation process is effortless even for a beginner as it comes with easy video instructions. It provides a read speed of 560MB/sec and writes a speed of 510 MB/sec, respectively. It is available in various space capacities ranging from 250 GB to 2TB.
Pros:
Super-fast drive
Easy installation
Secure the data from hackers.
Provides five-year limited warranty
Inexpensive
Cons:
May need a spacer to fit inside the MacBook properly

This SSD from the respected brand Samsung is highly dependable and perfect for heavy users. Built with V-NAND technology and a powerful algorithm-based controller, it smoothly manages heavy workloads of premium PCs, workstations, and NAS. It is a popular choice among gamers, IT, and creative professionals for ensuring lasting assurance.
The remarkable endurance capacity enables storing and rendering 4K videos and 3D data. The MJX controller combined with advanced ECC algorithm produce higher speeds, and the upgraded queued trim improves Linux compatibility. The 860 EVO built with advanced engineering is more compatible with the computing system.


It enhances performance by providing consisted and sustained speeds. 860 EVO fits in almost all kinds of laptops/computers due to its availability in various sizes. It enables supreme data protection. You will get update notifications and can easily install them for better performance and stability.
Pros:
Offers 5-year warranty
Sequential read and write speed level up to 550MB/s and 520MB/s
Easy to install
Faster drive
Cons:
Limited availability on the low side
#3. SanDisk Ultra 3D SSD– Makes Your PC Faster and Saves Energy

SanDisk is a famous company for producing reliable and effective SSD. This SSD helps your drive works well under extreme pressure. It offers a unique caching method that enhances performance and also keeps the operation cool and quiet.
It is an excellent choice for gamers as it ensures fast gaming and graphics and enables quicker boot-ups. The nCache 2.0 technology allows more rapid burst speeds, and the advanced 3D NAND technology increases drive endurance. It lowers power usage and prolongs battery life.
This SSD ensures the safety of your data by resisting shock and vibration. Up to 560MB/s read speeds improves the overall performance of the system. It also saves your time by enabling faster loading of applications, games, etc.
Pros:
 Durable design
Makes drives efficient
Provides limited warranty for five years
Reduce load time
Cons:
Does not come with cloning software

Western Digital or WD is a well-trusted brand in the storage options market. It is suitable for running high-end applications such as gaming, creative software, HD media playback, etc. 3D NAND technology allows sequential read and writes speeds up to 560 MB/sand 530 MB/s.  It enables transfer speeds swifter, faster boot-ups, andapplication responses.
This SSD ensures the safety of data by offering data loss protection in case of accidentally dropped, several error amendment technologies, and 1.75M hours MTTF. It provides up to 4TB storage capacity.


It passes WD FIT Lab™ certification, so it is compatible with computers from different ranges. It also provides up to 600 terabytes written and a five-year warranty for boosted reliability. It comes with free downloadable software, which helps monitor the drive status, clone a dive, or create a backup of essential data.
Pros:
High Capacity
Maximize Performance
Ensures reliability
Affordable
Cons:
4K performance may need improvements
#5. OCZ Vertex 3– A Cheaper Option Ensuring Enhanced Durability

OCZ is a well-reputed storage device manufacturing company. This SSD helps to utilize the full potential of the 6Gbps SATA3 interface. If you need to upgrade your older MacBook pro within a limited budget, it is the right one.
This SSD significantly improves overall computing experience, including gaming, multimedia, etc. It is much more efficient than regular mechanical hard drives. Upgrade with vertex 3 makes your MacBook more portable as it lowers power consumption and increases durability.


It comes with a 3.5-inch adapter bracket and a 3-year warranty. It makes your PC/laptop perform faster, maintaining a cooler computing environment. This SSD from OCZ is lightweight, so it won't weigh down the MacBook and makes it easy to carry.
Pros:
Light in weight
Eliminates distracting noise
Great Customer Service
Budget-friendly
Cons:
Fewer options for storage capacity
Things To Consider Before Buying SSD For Macbook Pro 2011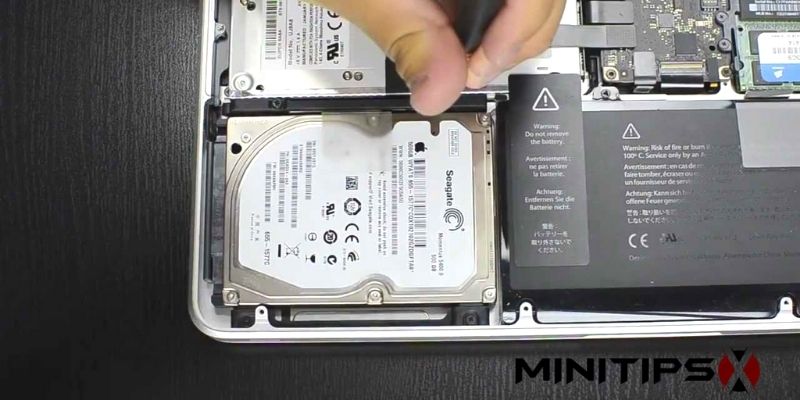 Before buying an SSD for your MacBook Pro, you need to consider the following factors
Storage Capacity
Storage capacity is one of the critical factors to consider when buying an SSD. If you need to use the SSD as an OS drive, you should buy a minimum of 250 GB. The storage capacity ranges from 250 GB to up to 4TB. The price also varies with increasing size.
If you work with heavy applications and have a lot of photos, videos, you should buy at least 1TB storage.
Speed
Speed is an essential factor in measuring the performance level of an SSD. The read speed determines how much time a file takes to open, and write speed decides the time needs to save something on SSD. The higher speed numbers indicate more efficient performance.
The affordable SSD usually comes with lower speeds, but they are still fast enough to provide optimum performance. If you do intensive photo or video editing works, you can choose the expensive and faster ones.
Installation
Installing SSD on an Apple MacBook Pro can be tricky. You can install it by yourself only if you have explicit knowledge of what you are doing; otherwise, you can get help from professionals.
The installation process mainly depends on the type of SSD you are installing and on the version of MacBook Pro. Generally, you will need a screwdriver to access the internal parts. The installation of SSD on older models (before 2012) of MacBook Pro is more comfortable than the new models with m2 type SSD.
Software
Transferring your files to a new SSD is not that simple. You should try to buy an SSD that comes with the software. This software allows you to copy or move files quickly from the old drive to the new one. It also manages the updates of firmware efficiently.
Budget and Trusted Brand
To get the best out of the SSD, you need to buy one that meets your budget limit while providing optimum performance. Buying from a reputable brand is also vital to ensure better service and benefits.
Frequently Asked Questions
What are the signs of SSD failure?
There are some signs which indicate that you need to replace or repair your SSD. If you get notifications from your Windows or Mac to improve your file system, it can be a sign of SSD failing. You can solve this problem with the built-in repair tool in the macOS or Windows, but you might lose some data.
Besides this, frequent crashes while booting, cannot read or write files, or drive gets read-only are signs of SSD failure.
Should I replace the SSD of my MacBook Pro by myself or by a professional?
For an Apple laptop, we recommend you get the help of a professional in replacing the SSD. Apple makes its product's internal design complex, which will be very challenging to open and repair. The screwdrivers use in this process are also specially designed.
How do I check the health status of SSD on MacBook Pro?
You can install software to know if the drive is running smoothly and monitor your SSDSSD's health. Visit Smart Reporter Liteto to know the details.
Wrap Up
MacBook Pros comes with fixed storage, but since we use it continuously for education, work, or recreational purposes, the storage space will likely fill up quickly. It is necessary to buy the SSD that suits your device the best and meet your budget requirements.
We hope our article on the best SSD for MacBook Pro 2011 will help you decide which one to select for maximum performance. The perfect SSD will also help you in making your older MacBook Pro work like a new one.