Are you worried about how to install motherboard drivers? Don't worry about this because with this content; we will tell you how to install motherboard drivers.
First of all, we have to select the motherboard that is enclosed for the processor. Because each motherboard is designed to work with specific processors and memory, they are not able to work with every processor and memory.
After reading this content you will learn all the procedures in detail. Let's get started to know how to install motherboard drivers.
What must drivers be installed?
When installing the motherboard driver, you must install some drivers. For example: 
Chipset -The chipset controls all programs on the motherboard. 

Audio Driver – This driver works with the audio section, such as the microphone. 

Network Connection (LAN) – This software performs network-related tasks. 

VGA Driver / HD Graphics – Computer graphics view is not correct if it is not installed.
After installing the above drivers, you can install other drivers as per your requirement.
How to Install Motherboard Drivers
We are discussing the driver installation of the GIGABYTE Motherboard. By following these procedures, you will also be aware of the other company's motherboard drivers installed.
We will show you two ways to install a motherboard driver. From both of these methods, you can install the motherboard driver using the suitable one for you. 
Method 1 of 2 (With CD)
In this case, you will require to utilize a motherboard CD. It would be best if you used the CD by the company that is using the motherboard of the company. If the CD model is different, but the company is the same, then there is no problem, you can install the CD individually. This time we're going straight to the process.
Note: Some software you must install, such as Chipset, Audio driver, Network connections, VGA driver/HD graphics driver. You can install the rest as you wish.
Step 1:
First, you insert your CD into the computer DVD drive. And go to My Computer / This PC. If your driver has an autorun system, then entering the disk will bring up the driver installation interface, and if it does not, then you will realize that you have an auto runoff. 
In that case, right-click the mouse on the DVD drives and double clicks on Install or run the program from your media.
Now you can see two options. Yes and No, tap on yes.
Step 2:
Now the system interface is displayed in front of your screen. Mark your essential software now. If you already have the software installed on your computer, it will detect it so it will not show the software here again. Once the software is marked, click Express Install.
You can also install the software separately if you want, then click on the install option on the right side of each software.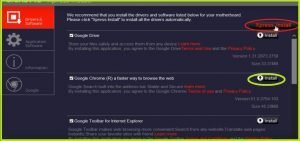 Step 3:
Clicking Express Install will start installing the driver shortly. Now you can see which software is being installed. Don't worry if your computer will restart at this time.

Step 4:
After installing all the software, the computer will have to restart. You will see an interface; clicking OK will restart the computer.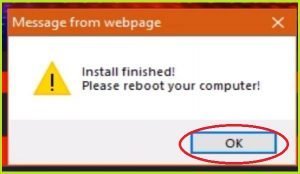 Method 2 of 2 (Without CD)
If you do not have a CD, you will have to download and install the software by searching Google from your motherboard version number.
Note: From here, you must download these four softwares: Audio, VGA, Chipset, and LAN. If you don't have this software, you might experience various problems at work.
Step 1:
At first, go to Google and search by typing in your motherboard's model number. Then click on the link of your motherboard's website.
Step 2:
After entering the website, click on Support. It will bring you to the Downloads section.
Step 3: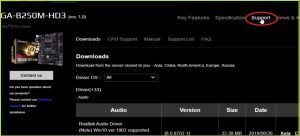 Here you can see the driver OS. From here, you need to select the operating system of your computers, Windows.

Step 4:
Now click on the software that you want to download. After clicking on it, you will see an interface, from which you will download the latest version.
Step 5:
Click on Download Manager to download and tab Download with IDM. It will show the download option of your software in a few minutes.

Step 6:
Click on Start Download. After clicking it, the software will start downloading.

After finishing the download, install all of the software and use the computer peacefully.
Conclusion
We showed you the whole process of how to install motherboard drivers with CD and without CD. If you follow our procedure, you do not need anyone else's help to establish the motherboard driver.
More To Explore: